In this section you can find my best tools and brushes, as well as recommended products I use regularly.
Some of the links may contain affiliate links, which means I will get a small commission whenever you buy the item using my link. You will have absolutely no extra fees or problems while it will allow me to earn a little amount of money with each sale.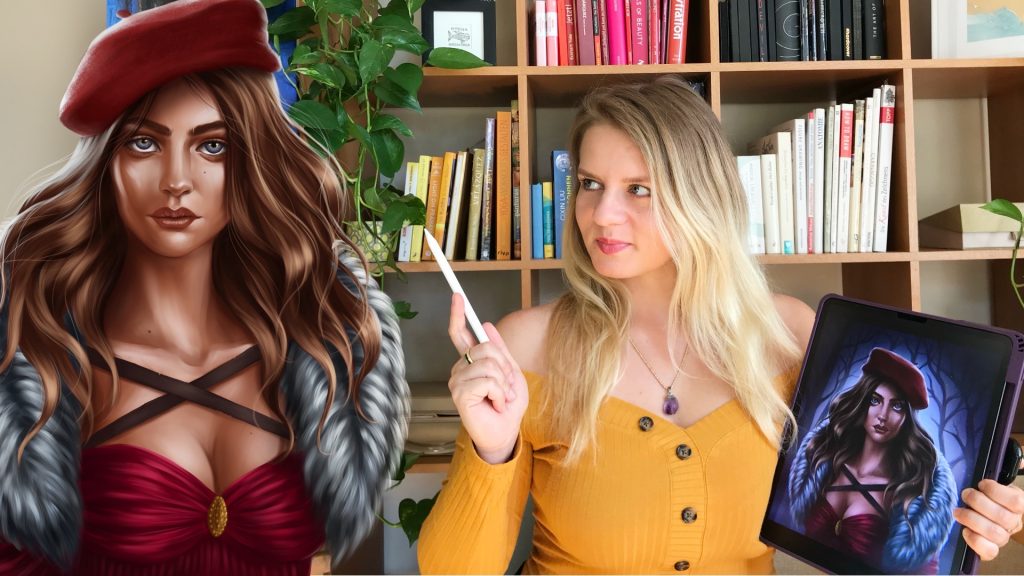 Digitales Charakter Design: Gestalte überzeugende Charakterporträts mithilfe von Referenzen
Hast du schon einmal fantastische Illustrationen von Charakteren bewundert, die voller Ausdruck sind und eine Geschichte erzählen? 
Hast du dich jemals gefragt, was es braucht, um schöne fantasy Porträtbilder digital zu malen? 
Ganz gleich, ob du Charakterporträts für Videospiele, Buchillustrationen oder einfach nur zum Spaß erstellen möchtest, dieser Kurs behandelt die wichtigsten Aspekte, wenn es darum geht, professionell aussehende Charakterporträt-Illustrationen zu kreieren.
Wenn du schon immer mal ein ausdrucksstarkes Charakterporträt malen wolltest, aber nicht weißt, wo du anfangen sollst, dann ist dieser Kurs genau das Richtige für dich!
Nimm an diesem Kurs teil, in dem wir gemeinsam eine atemberaubende Charakterporträt-Illustration von Anfang bis Ende erstellen werden!
Das wirst du lernen:
Die Grundlagen des Charakterdesigns und was nötig ist, um einen Charakter wirklich zum Leben zu erwecken. 
Wie man die richtigen Referenzfotos findet und Referenzboards erstellen kann. 
Wie man den Illustrationsprozess in vier einfache Schritte unterteilt
Einige nützliche Tipps und Handgriffe, um deinen Charakter wirklich zum Leben zu erwecken
Ich werde dich in leicht verständlichen Schritten durch den gesamten Prozess der Charakterillustration führen, den du dann auf deinen eigenen Charakter für das Kursprojekt anwenden kannst. 
Dieser Kurs richtet sich an alle, die lernen möchten, wie man digitale Charakterillustrationen erstellt, und die bereits einige grundlegende Erfahrungen mit einer digitalen Mal-Software haben. Ich werde mit Artstudio Pro auf dem Ipad Pro arbeiten, aber du kannst auch jede andere digitale Malsoftware wie Photoshop, Procreate oder Clip Studio Paint verwenden.
Get 30 days of Skillshare for free by following my referral link!
With this link you will be able to watch any of the thousands of classes Skillshare has to offer for free for 30 days. Only applicable to new users.